WYS - Elements - DK
Elements - DK
West Yorkshire Spinners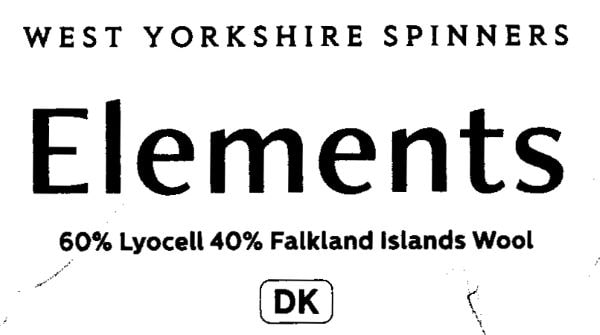 60% Lyocell 40% Falkland Islands Wool
Elements DK from West Yorkshire Spinners is an innovative blend of TENCEL™ Lyocell and world-renowned Falkland Islands wool. (see below for more information)
Expertly spun to create a fully traceable, sustainable, lightweight and lustrous yarn, perfect for your summer knitwear.
50g Ball
112m approx
Tension: 4in x 4in (10cm x 10cm) = 28 rows x 22 stitches
Needle Size: 4mm

Hand wash only
Reshape whilst damp
Do not tumble dry
A UNIQUE BLEND OF TENCEL™ LYOCELL AND FALKLAND ISLANDS WOOL
Fully traceable and derived from natural origins, this unique fibre blend leads to a yarn with great strength, natural breathability and gentleness against the skin.
TENCEL™ Lyocell
Soft and smooth to the touch with a luxurious sheen and flattering drape, TENCEL™ Lyocell boasts many properties which perfectly complement wool.
Harvested from sustainably managed wood sources, TENCEL™ Lyocell is certified biodegradable and compostable, making this yard revertible back to nature.
Falkland Islands Wool
Grazing in the beautiful wilderness, Falkland Islands sheep enjoy some of the greenest conditions and produce the finest fleece, prized for its purity and handle.