Wendy - with Wool - DK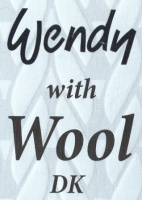 Wendy with Wool DK offers a wide choice of shades
created by blending solid colours with undyed natural wool,
giving sophisticated tones with definite feel appeal.
A classic yarn Wendy with Wool will be the
go-to choice for knitters and crocheters alike.
Make sure you get some in your stash.
80% Acrylic 20% Wool
100g approx
280m approx
Tension: 4in x 4in (10cm x 10cm) = 31 rows x 22 stitches
Needle Size: 4mm



CLICK on the following links to browse
our extensive range of Knitting Patterns
Knitting Patterns for Wendy with Wool DK >>
Knitting Patterns for any DK Yarn >>
All our Knitting Patterns >>