Clapdale 100% Wool - Knitting Yarn
Clapdale Wool DK
by Glencroft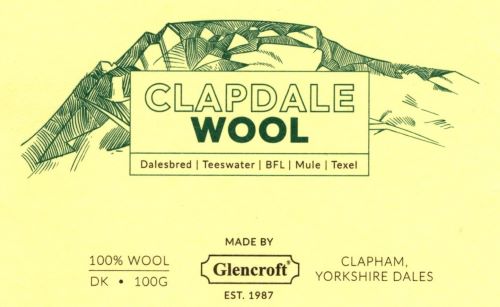 A 100g hank of undyed DK wool for hand knitting.
This yarn is manufactured exclusively by Glencroft from fleeces collected from two farms
within 5 miles of their warehouse in Clapham, Yorkshire Dales (just up the road from Cottontail Crafts!).
The Clapdale Wool project was launched to create a fully traceable yarn that benefits local farmers
with help from the Yorkshire Dales National Park Sustainable Development Fund.
Farmers are paid a decent price for their clip and, in addition, 10% of the profits from the project go back to the farms.
The wool contains all the sheep breeds on these two Clapham farms - Dalesbred, Teeswater, Blue Face Leicester (BFL), North of England Mule and Texel.
The yarn is DK weight yarn with a reasonably soft handle and of course has the gorgeous smell of real wool.
The wool has been scoured, carded, combed and spun entirely in West Yorkshire.
The yarn is undyed so is predominately a natural cream colour with a tiny amount of darker black and brown wool fibres.
Each hank also has a link on the label to two free knitting patterns, created by our local hand knit expert Sandra Oakeshott, for a bias scarf and a child's hat and scarf
100% English Wool
100g approx.
220m approx
Tension: 10cm x 10cm = 30 rows x 22 stitches
Needle Size: 4mm




CLICK on the following links to browse
our extensive range of Knitting Patterns
Knitting Patterns for any DK yarn >>
All our Knitting Patterns >>